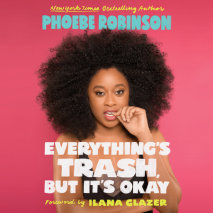 From New York Times bestselling author and star of 2 Dope Queens, Phoebe Robinson, comes a new, hilarious, and timely essay collection on gender, race, dating, and a world that seems to always be a self-starting Dumpster fire.
A NEW YORK TIMES BEST SELLER • "A must-read…Phoebe Robinson discusses race and feminism in such a funny, real, and specific way, it penetrates your brain and stays with you." –Ilana Glazer, co-creator and co-star of Broad City

A hilarious and timely essay collection about race, gender, and pop culture from upcoming comedy superstar and 2 Dope Queens podcaster Phoebe Robinson

Being a black woman in America means contending with old prejudices and fresh absurdities every day.