Eleven-year-old Elijah is the first child born into freedom in Buxton, Canada, a settlement of runaway slaves just over the border from Detroit. He's best known in his hometown as the boy who made a memorable impression on Frederick Douglass. But things change when a former slave steals money from Elijah's friend, who has been saving to buy his family out of captivity in the South.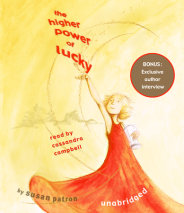 BONUS FEATURE. Exclusive Author Interview

Lucky, age ten, can't wait another day. The meanness gland in her heart and the crevices full of questions in her brain make running away from Hard Pan, California (population 43), the rock-bottom only choice she has.