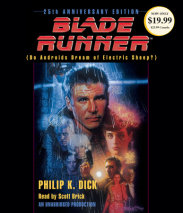 The classic sci-fi novel Do Androids Dream of Electric Sheep., which inspired two major motion pictures. Blade Runner and Blade Runner 2049

By 2021, the World War has killed millions, driving entire species into extinction and sending mankind off-planet.
Bob Arctor is a dealer of the lethally addictive drug Substance D. Fred is the police agent assigned to tail and eventually bust him. To do so, Fred takes on the identity of a drug dealer named Bob Arctor. And since Substance D--which Arctor takes in massive doses--gradually splits the user's brain into two distinct, combative entities, Fred doesn't realize he is narcing on himself.