The #1 New York Times bestseller.

Named one of the 10 Best Books of 2017 by The New York Times Book Review.

Pulitzer Prize winner Ron Chernow returns with a sweeping and dramatic portrait of one of our most compelling generals and presidents, Ulysses S.
Bankers, philanthropists, scholars, socialites, artists, and politicians, the Warburgs stood at the pinnacle of German (and, later, of German-American) Jewry. They forged economic dynasties, built mansions and estates, assembled libraries, endowed charities, and advised a German kaiser and two American presidents.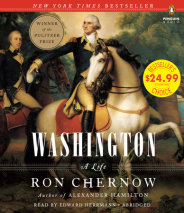 A gripping portrait of the first president of the United States from the author of Alexander Hamilton, the New York Times bestselling biography that inspired the musical.

Celebrated biographer Ron Chernow provides a richly nuanced portrait of the father of our nation and the first president of the United States.
A New York Times Bestseller, and the inspiration for the hit Broadway musical Hamilton.

Pulitzer Prize-winning author Ron Chernow presents a landmark biography of Alexander Hamilton, the Founding Father who galvanized, inspired, scandalized, and shaped the newborn nation.