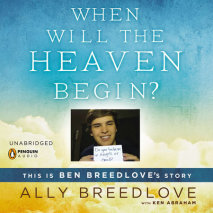 AN INSPIRATIONAL AND HEARTRENDING MEMOIR ABOUT BEN BREEDLOVE, WHO SHARED HIS NEAR-DEATHEXPERIENCES AND VISIONS OF HEAVEN IN HIS VIRAL VIDEOS—WRITTEN BY HIS SISTER, ALLY BREEDLOVE.

On Christmas Day 2011, Ben Breedlove's soul went to heaven.
Forty years ago, Buzz Aldrin became the second human, minutes after Neil Armstrong, to set foot on a celestial body other than the Earth. The event remains one of mankind's greatest achievements and was witnessed by the largest worldwide television audience in history.