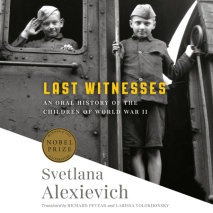 From the Nobel Prize-winning author comes an oral history of children's experiences in WWII across Europe and Russia, in the celebrated tradition of her masterpiece, The Unwomanly Face of War.

Bringing together dozens of voices in her distinctive style, Last Witnesses is Svetlana Alexievich's collection of the memories of those who were children during World War II.
A long-awaited English translation of the groundbreaking oral history of women in World War II across Europe and Russia—from the winner of the Nobel Prize in Literature

"A landmark."—Timothy Snyder, author of On Tyranny.
The magnum opus and latest work from Svetlana Alexievich, the 2015 winner of the Nobel Prize in Literature—a symphonic oral history about the disintegration of the Soviet Union and the emergence of a new Russia

When the Swedish Academy awarded Svetlana Alexievich the Nobel Prize, it cited her for inventing "a new kind of literary genre," describing her work as "a history of emotions—a history of the soul.