A wily fox, notorious for stealing eggs, meets his match when he encounters a bold little girl in the woods who insists upon proof that he is a fox before she will be frightened.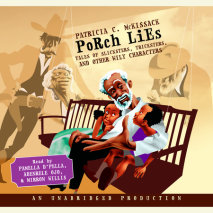 Side-splittingly funny, spine-chillingly spooky, this companion to a Newbery Honor–winning anthology The Dark Thirty is filled with bad characters who know exactly how to charm.

From the author's note that takes us back to McKissack's own childhood when she would listen to stories told on her front porch.